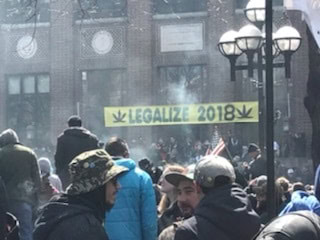 Long ago, Michigan started protesting how ridiculous it is for cannabis to be stigmatized and be criminalized. So every first Saturday in April people gather at the U of M campus and openly consume. But this year will be different. A disease is sweeping the nation and events and even schools all across Michigan are being canceled.
On the best year and month possible for this event (04/2020), the virus is COVID-19 is scaring the nation. In preventive measures to keep the virus from spreading, everyone is staying at home to prevent the spread of the disease.
The Ann Arbor Hash Bash 2020 is postponed this year.
This would be the 49th event and although some are willing to risk disease for the event, the State of Michigan has declared a state of emergency over the virus. The University of Michigan is also requesting that any event over 100 people be postponed.
03/30/2020 update:
Planet Green Trees TV will be live streaming the event on their Facebook page at the same time as originally scheduled.
Here are the events that would be happening in the first week of April:
High Noon at the Diag
It would be easy for a disease like COVID 19 to spread with the sharing of joints and other marijuana.
Monroe Street Fair Hash Bash
The Annual Monroe Street Fair proactively rescheduled to Fall
Get more information at the Monroe Street Fair Website
Hash Bash Cup
In an Instagram announcement, the Hash Bash Cup announced they will be postponing the event due to the statewide executive order issued by the Governor.
Read the Hash Bash Cup announcement here.
Read more about the Hash Bach Cup on their Website
Read More:
Michigan Politicians Support Legalization at 2019 Hash Bash
This post was originally going to be a comprehensive guide to all of the events that were under the "Hash Bash" title but had to be rewritten in lu of the Coronavirus cancelations across the nation.
The Michigan Cannabis Lawyer Admin is the profile for the cannabis attorneys here at Covert Law Firm.
https://www.micannabislawyer.com/wp-content/uploads/2018/04/Hash-Bash.jpg
240
320
MCL Admin
https://www.micannabislawyer.com/wp-content/uploads/2022/01/New-Logo-for-2022-900x900-1-300x300.jpg
MCL Admin
2020-01-15 14:33:14
2020-05-27 13:42:55
Ann Arbor Hash Bash 2020 - Rescheduled & Live Streamed